Healthy Holiday Favorite: Sweet Potatoes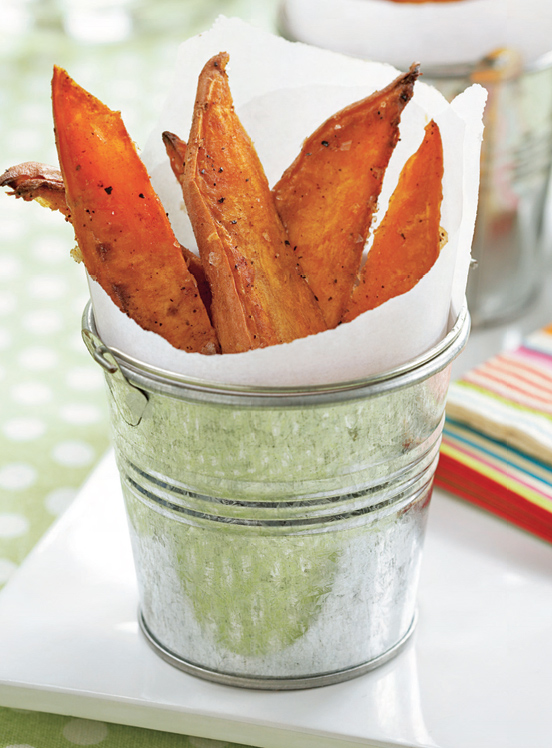 Throughout the holiday season, wonderfully sweet, antioxidant loaded sweet potatoes are at their best. So absolutely delicious on their own, whether boiled, mashed, roasted, baked, or grilled, it's a wonder that tradition has us drown the natural goodness with unnecessary fluff, such as the likes of tiny marshmallows. A powerhouse for infection-fighting and staunchly eyes and skin protective, vitamin A (providing over 200% of the daily value per vegetable), sweet potatoes are also rich in vitamin C, and good sources of many other nutrients, including vitamin B6, manganese, fiber, and even iron. Well disposed to the sweet or savory, they're transformed into sides, mains, breakfasts, and desserts. Here are some of my favorite sweet potato standbys, for the holidays and throughout the year. Check back for additions (like sweet potato pie, which didn't make this particular post), and feel free to send in your own!
Thanksgiving isn't the same without my friend Muffy's amazing mashed sweet potatoes. Beautiful, health-conscious, successful, hard-working and committed to everything she does, Muffy is seriously the embodiment of all that is best about Boulder, as well as being a whole foods connoisseur. Her sweet potatoes are creamy and garlicky, and utterly delicious. In place of butter and salt, she used roasted smashed garlic and lowfat buttermilk. However, the key, she says, is baking the potatoes rather than boiling. They are yum! Here are a couple more personal favorites:
Spicy Roasted Sweet Potatoes
This is a recipe I wrote for Natural Solutions, as part of an article on fatigue-fighting foods, in May of '08. Really simple, these can look like gourmet fries or chunky hash browns depending on how you cut them. Tweaking with different spices is fun and pretty fail-proof, too.
Makes approximately 6 side servings
2-3 lbs sweet potatoes
1 tablespoon chili powder
1 tablespoon olive oil
1 teaspoon black pepper
1 teaspoon garlic powder
1 teaspoon cumin
1. Wash sweet potatoes briskly and thoroughly and trim the pointed ends. Slice into wedges.
2. In a bowl, combine sweet potatoes with remaining ingredients and stir until well combined.
3. Spread mixture onto a baking sheet coated with cooking spray. Roast at 500◦ for 30-35 minutes or until crispy tender.
nutrition info per serving: 132 calories; 2.7 g fat; .4 g saturated fat; 0 mg cholesterol; 1.7 g protein; 26.4 g carbohydrates; 4.1 g fiber; 20.7 mg sodium
Sweet Potato Casserole
Potatoes:
2  pounds  sweet potatoes, peeled and chopped
1/2 cup brown sugar or honey (or less...I've used 1/4 cup)
1/4  cup  fat free evaporated  milk (or 2% milk, if preferred)
1 tablespoon melted butter (optional)
1  teaspoon  vanilla extract
2  large eggs
Cooking spray
Topping:
1/3 cup  whole wheat  flour
1/3  cup  packed brown sugar
1/2 cup finely chopped walnuts
Additional: olive oil
1. Preheat oven to 350°.
2.  In a large saucepan, bring potatoes to a boil. Reduce heat, and simmer until tender, about 20 minutes. Drain.
3. Place potatoes in a large bowl; add sugar or honey, evaporated milk, melted butter, and vanilla. Beat with a mixer at medium speed until smooth. Add eggs and beat well. Pour mixture into a 13 x 9–inch baking pan prepared with cooking spray.
4.  In a small bowl, mix topping ingredients and stir with a whisk.  Sprinkle evenly over potato mixture and drizzle lightly with olive oil. Bake at 350° for 25 minutes or just until golden.
Sweet potato and Citrus Coffee Cake
Here's another recipe I wrote for Natural Solutions, this one as part of an immune-boosting article.  Pardon the fact that it's a repeat, having already been posted as part of Veggie Sweet Treats 1. The glaze isn't necessary, but does add elegance and, of course sweetness.
12-15 servings
1 cup whole wheat flour
1 cup flour
1 ½ teaspoons baking powder
½ teaspoon nutmeg
1 teaspoon cinnamon
1 teaspoon grated orange zest
½ cup brown sugar
½ cup maple syrup
1 teaspoon vanilla
1 cup cooked, mashed orange sweet potatoes
1 egg
1 egg white
½ cup nonfat sour cream
¾ cup orange juice
2 tablespoons olive oil
1 cup raisins
½ cup dried cranberries
GLAZE
1 ½ cups powdered sugar
¼ cup orange juice
1. In a bowl, mix together flours, baking powder, cinnamon, nutmeg and orange zest. Set aside.
2. In a large bowl, mix sugar, maple syrup, yams, vanilla, sour cream, and orange juice, olive oil, egg and egg white and blend well.
3. Combine flour and yam mixtures. Fold in raisins and cranberries and pour into a prepared baking pan coated with cooking spray. Bake at 350◦, 1 hour for an 11 X 7 pan, 45 minutes for a 9 X 13 pan.
4. While cake is baking, prepare glaze in a small bowl. Spoon over cake when cooled.