Kitchen Mishap Made Good (sweet potato pie with a whole wheat and/or oat and walnut crust)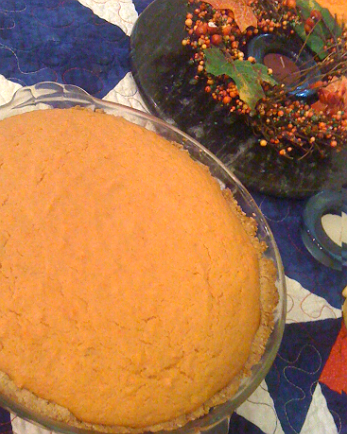 I've logged many compliments to my Mom throughout the course of this blog's progression, not least her language of food, creativity, and the time, care, and effort she put into homespun creations that overcame financial restrictions beset on a young family growing up. And so, I've decided I can mention an inherited neuroses or two with no compunction. For one thing, for someone with a nail-hard practicality, my mom occasionally throws in a few surprise, superstitious zingers  that can really stick in the subconscious. Letting a momentary, insecure thought become self-fulfilling prophecy, for instance. I distinctly remember my Mom recounting how, when she was a little girl, she went through a phase of continuously falling down the stairs from over-thinking. As soon as the worry crept in her head, bam, it happened. To this day, I think the ingrained idea affects those overly cautious descending skills I've cultivated, both trail running and road biking. Of course, my Mom did nothing to deserve this explanation of one small aspect of my psyche being so pre-disposed to worry, and simultaneously stress out about every worry to an exhausting degree. I only bring it up because, yesterday, out of the blue, my Mom's stair-falling story popped into my head while I was preparing for a dinner for some girlfriends. My mind entertained this fleeting, ghostly image of a flight of stairs rapidly ascending to my face, and suddenly I realized I botched up my recipe for sweet potato pie.
Until yesterday, I'd never made sweet potato pie before. I wasn't even sure I'd like it. I suspected I would, because I absolutely love pumpkin pie, any time of year; further, I eat sweet potatoes for lunch on a fairly regular basis, and adore the smooth, caramel sweetness brought out by baking. I had decided to try a variation of the recipe featured in this month's Cooking Light, with a few changes. I wanted to use my own crust, a fairly wholesome one made awfully fuss-free by the food processor. You can use a combination of whole wheat flour and oats, or just grind up oats alone (if you do, cut out the flour and increase oats to 1 3/4 cup), with a bit of maple syrup, some ground walnuts or pecans, and just 3 tablespoons of butter. I also wanted to eliminate butter in the filling, because I really dislike the taste. Those were the main changes. I didn't intend to dump a whole can of  condensed milk in there.
Baking is so much fun, and feels so satisfying, but it does pose continual predicaments. For one thing, I've been trying to avoid processed food, and goopy, sweetened condensed milk seems like a supremely fake, and passe, product if there ever was one. A whole segment was devoted to it in Cooking Light, however, and in that segment it was referred to as a "star from Brazil to Vietnam". There are so many pitfalls when it comes to dessert, I figured, couldn't this be a compromise suitably paired with a glorious, nutrient-dense root vegetable, short of no dessert?
The recipe did not call for the entire can of  milk to be used in the pie filling, but there was no going back. The question then was, with 2 hours to go before the girls arrived,  should I carry on, or come up with something else? You can't go all that wrong with sweet potato (or pumpkin) mash, a host of festive spices, a little maple syrup and two eggs, though, can you?
In the end, this kitchen mishap morphed into a keeper of a recipe. I got to cut out additional sugar, except for 3 tablespoons maple syrup, and the filling had a lighter than anticipated texture and a lovely taste.  I don't mean to say the moral of the story is, go ahead and daydream while you work (or play), because getting out of the mess you create will challenge and reward your creativity. No, not that. But it is fun to let yourself drift once in awhile, I suppose, and there's usually a decent story that comes out of dealing with the unexpected.
Sweet potato pie with a whole wheat (and/or oat) and walnut crust
For the crust:
1 cup whole wheat pastry flour
1/3 cup oats (or eliminate flour altogether and use 1 3/4 cup oats)
1/3 cup walnuts
2 tablespoons 100% maple syrup
3 tablespoons butter
1 tablespoon cold orange juice
**For an oil-based crust, just swap in 1/4 cup olive or vegetable oil.
For the filling:
approximately 2 pounds sweet potatoes (about 3 medium-large)
1 can condensed milk (I used fat free)
1 generous tablespoon pumpkin pie spice
2 large eggs, lightly beaten
1 teaspoon vanilla extract
Wash and prick the sweet potatoes with a fork and bake at 375 F for approximately 1 hour, or until soft. Remove from oven and let stand for 5 minutes. Peel and discard skins. Mash flesh in a large bowl.
While potatoes are baking, prepare the crust. Place all ingredients in a food processor and process until achieving a coarse meal. Press into a prepared 9-inch pie plate. Bake at 375 F for 10-12 minutes.
Add remaining filling ingredients to mash in bowl and stir to combine. Pour into pie crust. Bake at 350 F for 45 minutes, or until set. Let stand 10 minutes, and/or chill before serving.