Light gingerbread pancakes with pomegranate syrup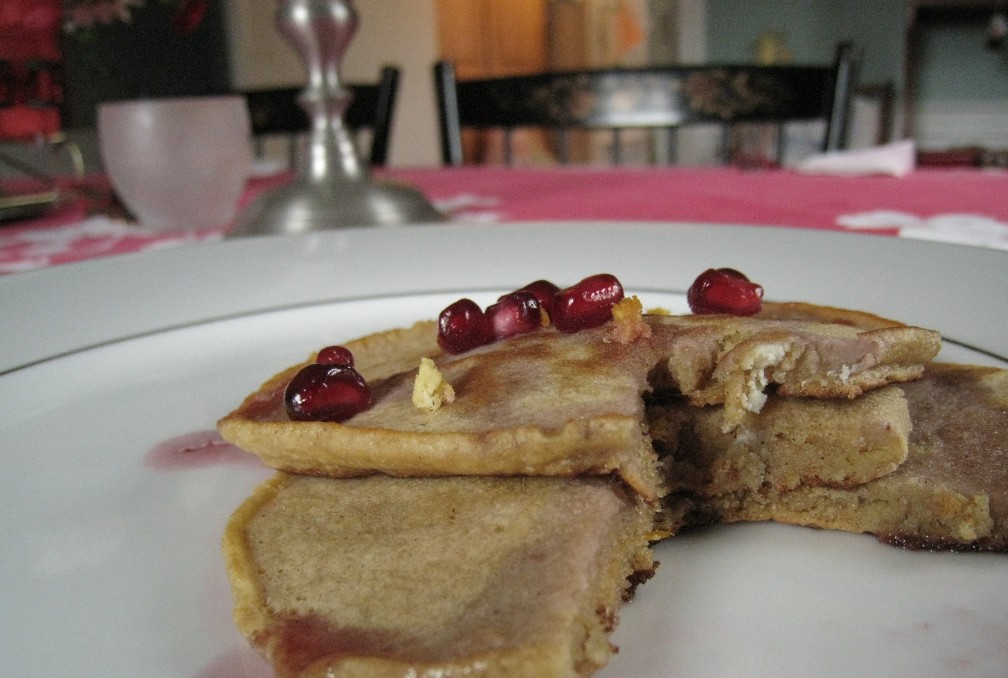 One week of journal drought, then two posts in one day! I know!  In case this appears on the surface to be a classic case of new year hyper-drive on the road to burnout, let me just say, this year I have decided to create  a few SMART goals (an educator's guide to projected progress that is specific, measurable, attainable, realistic and timely) for myself . They are also going to be simple, and rather practical. My heart can sing  Hallmark notes and revel in ambiguous,  idealistic phrases, but for once, I 'm going to take a stab at listing and recording in linear fashion. And, if you're actually reading and wondering whether there is a connection with these pancakes here, which were so much more beautiful in person, I can assure you there is one, albeit very loose. Brevity isn't one of my SMART goals. Yet. Ordinarily I balk a bit at  new year's resolutions, putting all that weight into a start date that is so human and arbitrary. It seems kind of pedestrian and  a set up for failure. It also stresses me out, because I want them to be transcendent, and ongoing, so year to year I end up with a higher pile of these resolute promises to myself that are sentimental and vague. Be kinder, better, more compassionate; worry less, stress less, love myself. Not that these aren't noble and true goals. Only I've started hearing them echo in my head in the familiar sarcastic tones of certain friends who shall remain nameless, and that lends a flimsiness I want to steer away from this time. So, instead I'm  I am stipulating a minimum daily intake of water for myself, for one thing. I won't bore you with the rest.
Of course, unspecific, difficult-to-measure "worry/stress less" does deserve a place at the top of just about everyone's list. So, it stays. This year, as party of worrying less, I'm going to make a conscious effort to shrug off as many of my inevitable awkward moments, embarrassing premature confessions, and periods of over-thinking as I can. Already, I can tell this is going to be ridiculously difficult. Mere hours ago, I went around announcing that the dish I brought to a brunch was not good, aiming to set the bar low in my worry that it might be a failure. But since this isn't one of my SMART goals, I'll try shrugging off the failure. In fact, I'm aiming to somewhat enjoy laughing at myself for stuff like that, as long as I was being myself.
I have a good feeling about 2012. This past year wasn't a bad one, but I do feel like I spent a few good portions drifting, letting life happen to me instead of taking the reigns and creating good happenings. Today, the sun is shining brightly, the air is crisp and cold, and charged with fresh energy and vitality. Dave and Tim have relocated their office to a great new location that is wonderfully convenient, I've got some new writing opportunities, and my parents gave me a Christmas gift of encouragement that's kicked up the motivation to get my book project completed and out there already.
So, with one last holiday day to reflect and relax, and get revved up about making progress while simply enjoying the new year ahead, what could be better than pancakes? Especially light, sweet pancakes like these, with gingerbread spice and my favorite winter fruit, pomegranate? See, you probably thought there was no connection, given my impulsive rambling and 2nd post of the day! But there was, and I thank you for being patient with me if you've gotten this far. Happy new year! : )
Gingerbread pancakes with pomegranate syrup
Serves 6-8
For the pancakes:
1 1/2 cups whole wheat pastry flour or mix of whole wheat and all purpose flours
1 1/2 teaspoons baking powder
1/2 teaspoon baking soda
1 teaspoon cinnamon
2 teaspoons ground ginger
1/2 teaspoon ground cloves
1/2 teaspoon ground nutmeg
1 1/2 cups milk (I used skim)
1 tablespoon olive oil
1 large egg
1 large egg white
2 tablespoons molasses
1 tablespoon maple syrup
For the syrup:
1/2 cup pomegranate juice
1/2 cup maple syrup
Preparation
To prepare syrup, combine 1/2 cup juice and syrup in a medium saucepan. Bring to a boil over medium-high heat. Reduce heat and simmer, approximately 10 minutes or until thickened; remove from heat.
To prepare the batter: lightly spoon flours into dry measuring cups; level with a knife. Combine flours, baking powder, baking soda, and spices in a large bowl, stirring with a whisk. Combine milk, oil, egg, and egg white, molasses and syrup, stirring with a whisk; add to flour mixture, stirring just until moist.
Heat a nonstick griddle or nonstick skillet coated with cooking spray over medium heat. Spoon about 1/4 cup batter per pancake onto griddle. Turn pancakes over when tops are covered with bubbles and edges look cooked. Serve with syrup.