Slow Cooker Everyday Challenge: Day 8, Very Late Apple Confit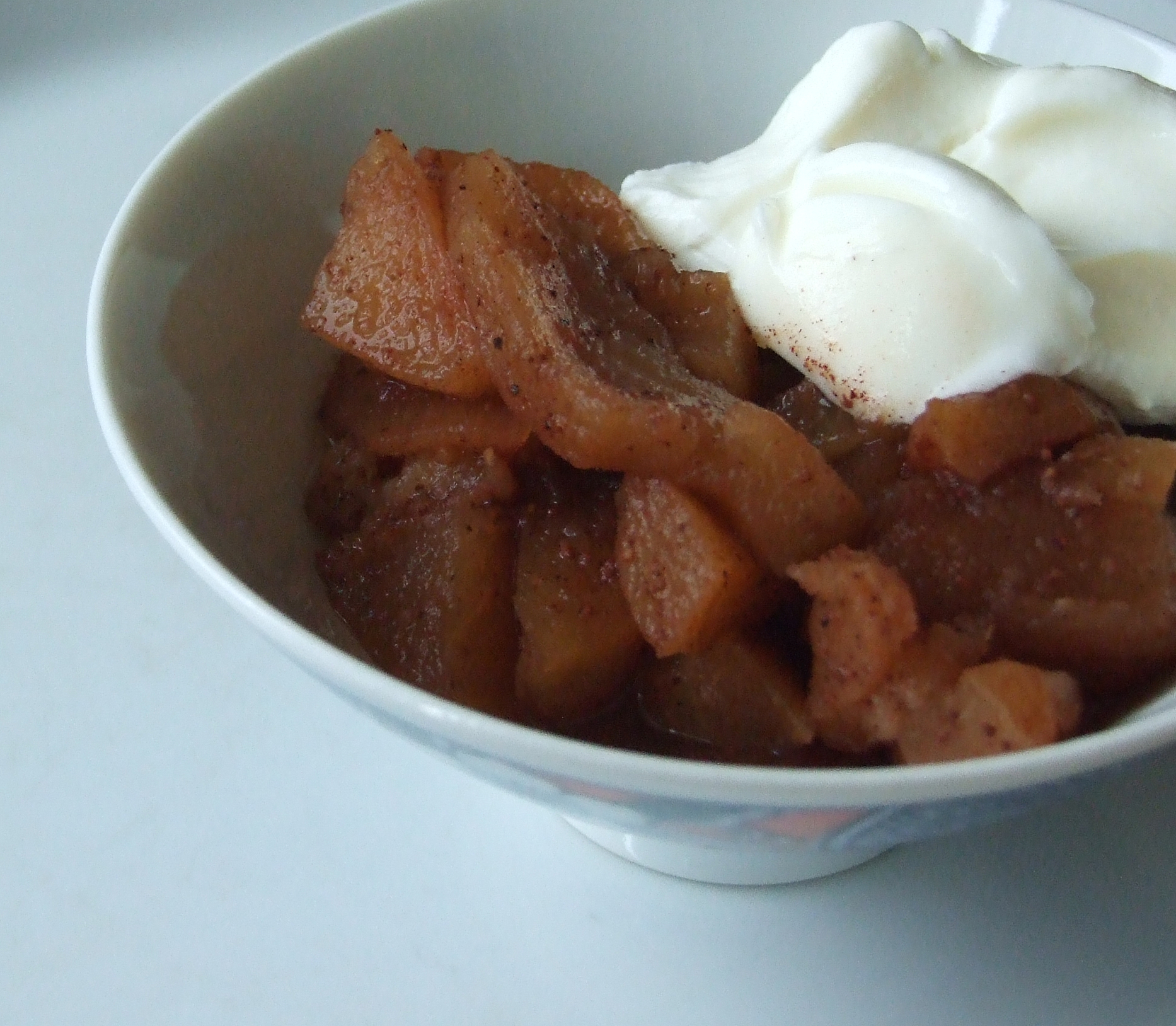 I know how  it appears, of course. Like cheating. Shameful.  Making two trials of baked beans count for 2 of the 7 days in the all engrossing Slow Cooker Challenge of my own devising. I mean, really! But in fact, appearances are deceiving once again, promise. Two days of baked beans was actually just an excuse to extend the supreme Slow Cooker Challenge to a stunning 8th day in a row, in spite of conferences, deadlines, bronchial/sinus infections and the like. I just became delinquent in writing about it. So, with sincere apologies to all my imaginary friends longing for this post, here we go.
Day 8 celebrated the success and lessons learned from the delightfully absorbing Slow Cooker Challenge with the easiest recipe: an apple confit. Before I go on about that, may I just say, I do mean "easy" as a compliment. Today I told a friend I could share some easy recipes with him, and he seemed to take offense, protesting "I've been cooking a lot", a bit heatedly, I thought. In truth, though, the absolute beauty of slow cooking is the purity and simplicity of creating healthy, gorgeous food with minimal preparation, and making avoidance of processed ingredients so much more convenient. But back to the apple confit, and specifically the word "confit", which I only just learned...
I might have thought the word confit meant "pie without the pastry" based on the one I made. It was scrumptious. Meltingly soft , warm, and rich with cinnamon, autumnal scents. Although I don't personally like the taste of butter, it reminded me of what is wonderful about things being "buttery", and slow cooking makes it really easy to get away with reducing sugar, just about as much as you want to. What confit really means, however, is "a specialty of Gascony, France, derived from an ancient method of preserving meat (usually goose, duck or pork) whereby it is salted and slowly cooked in its own fat. The cooked meat is then packed into a crock or pot and covered with its cooking fat, which acts as a seal and preservative. "  I suppose applying this term to apples is rather playful, though prefer thinking of these apples as "pie sans pastry".
A quick final note, for now, on the Slow Cooker Challenge: you already know I loved it. Yet I'll admit I was somewhat  relieved to unbind myself from the daily expectation. To make slow cooking really work, the key is simply planning, but plans go awry so frequently, that can amount to some pressure. That said, it was a mere 4 days after the official completion of my "challenge" that the slow cooker was working it's magic again. It's opened a whole new world of possibilities, and also a whole new range of tough, budget-friendly meats  and economical meals perfect for slow cooking. It's making reduction of packaging a whole lot more palatable, on the wallet and the plate, and playing with this has been just brilliant. And that's that. : )
 Slow Cooker Apple Confit (slightly adapted from Eating Well)
3 pounds firm cooking apples
1/4 cup brown sugar or maple syrup
2 teaspoons ground cinnamon
1/2 teaspoon ground nutmeg
1 teaspoon vanilla extract
Peel the apples and slice 1/4 inch thick. (You should have about 9 cups.) Place the apples in a 4-quart or larger slow cooker. Add sugar and cinnamon to taste, and toss to coat well. Cover and cook until the apples are very tender and almost translucent, but not pureed, 2 to 2 1/2 hours on high or 4 to 4 1/2 hours on low. Stir in vanilla. Transfer to a bowl and let cool slightly.