Check out these (fish) balls!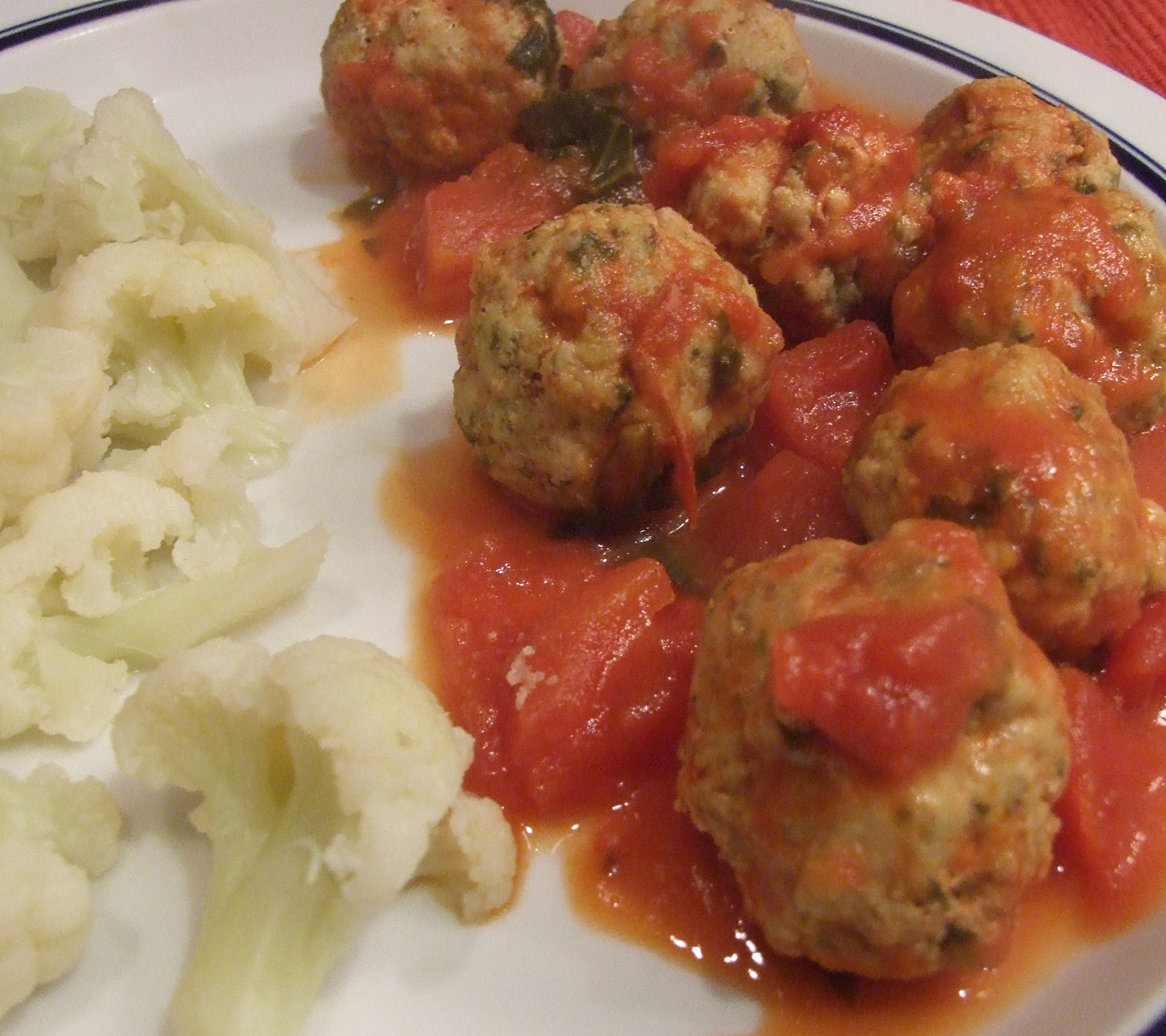 For awhile now, I've been wanting to send out a quick post on these, half as a cheeky sort of nod to our Whole Food Athlete friends, appreciating their penchant for certain types of balls. Only, again my (lack of) photography talent has presented an obstacle. Leftover fish doesn't generally appeal to me, so I haven't tended to set any aside, lest it become wasteful. And evening photo ops for food is too far beyond my talent to create anything passable.
In spite of myself, though, this week I decided to sod all cares of picture perfection and go with a photo or two of the least worst. Focus instead on keeping the wording more or less concise. Less reading, less revulsion potential.
Not that there's anything to find revolting about these fish balls, as long as you like fish. Considering they're "meatballs", they're almost alarmingly simple and straightforward to prepare, from ingredients to steps to timing. Blend in a food processor, shape into balls, and simmer in a simple tomato sauce. They require so little. A side of any vegetables will complete them, really.
Considering they're fish, they're surprisingly and pleasingly meaty. Substantial but not too filling. I like throwing spinach in them, but so many different addends are enticing. Like cilantro, or grated carrot.
So easy and tasty just as they are, yet begging for variation, sometimes, too. So, experiment. Humble white fish is highly accommodating. This is a recipe deliciously difficult to balls up.
Saucy fish balls with spinach (adapted from The Low Fat Cook's Companion, Lorenz Books)
Serves 4
1 pound tilapia, cod, or any white fish
1/4 cup fresh wholemeal bread crumbs
2 tablespoons finely diced red onion
1/3 to 1/2 cup packed fresh spinach leaves
2 cups fresh (or jarred) tomato sauce
salt and pepper to taste
Cut fish into medium sized pieces (a few inches) and place in a food processor with bread crumbs, onion, and spinach. Season lightly with salt and pepper and process until combined to form a textured mixture in which fish is finely chopped.

Divide fish mixture into even-sized balls (about 16-18). 

Place tomato sauce in a large skillet or saucepan  cook over medium heat until boiling. Reduce heat to medium, cover, and simmer 10-12 minutes. Serve hot.