Slow Cooker lentil, sweet potato and kale stew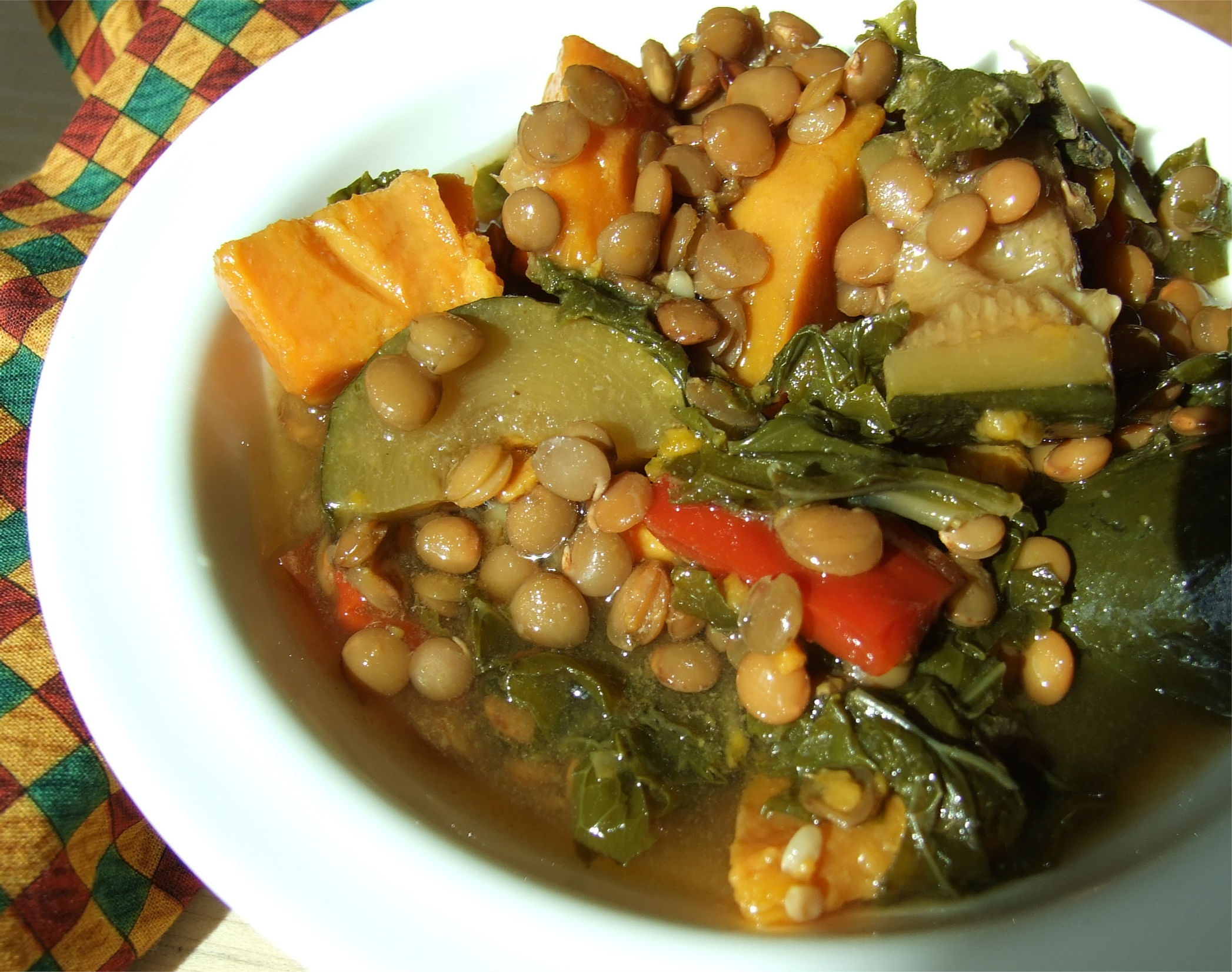 This is my lazy variation on the Lentil, Chard, and Potato slow cooker stew I saw on a delectable list shared by Oh My Veggies. I may be teetering a little when it comes to past standards in things like hygiene, housekeeping, and overall daily productivity, but I am becoming something of a pro at shortcut cooking. And while my creations would probably get me blacklisted from even the idea of scoring a future place on Top Chef, I have to say I like them wholeheartedly--loads in fact--and I love the gift of a little time and less stress, with a hot meal guaranteed at the end of the day to boot.
As enjoyable and oddly satisfying as shortcut cooking can be, I'm sometimes wary of falling into forever habits with it, among other things. So to stave off slothful tendencies of the hazy future, last week I was obstinately determined to bake cookies for a friend's birthday. What should have taken 20 minutes stretched out over a period of roughly 6 hours: bowl out, check...tick tock tick...dry ingredients mixed...wet ingredients mixed...wet ingredients lightly heated to re-melt butter...batter mixed...cookies on pan...etc, etc. At least the cookies finally turned out tasty, and Anne liked them.
This week saw progress when I made not one, but TWO casseroles (which was really one recipe halved among two dishes), one for us and another for friends. Needless to say, I was pleased with myself. At the same time, we're in no way expecting a repeat experience anytime soon.
Of course, overly worrying about the future (especially over things like setting up the slow cooker for over use injuries) is just pointless and impractical. I know that. Even more, my better self--the one who is not so set on stressing over small details--has been doling out a lecture over fitting anything "extra" in at all. Things change so darn fast these days. Our precious infant brings new smiles, expressions, movements, and curiosities into his blooming world each moment. Thanks to all the friends and family who lovingly remind us all the time to savor every second, and to the shortcut cooking to keep the kitchen warm and nourishing while we let go and do so!
Slow cooker lentil, sweet potato and kale stew
1 large bunch kale,  chopped with ribs removed
1 c. dried brown lentils, picked over and rinsed
2 large sweet potatoes or yams, peeled and cubed
2 carrots, peeled and sliced
1 red bell pepper, coarsely chopped
6 c. vegetable broth or water
1 tbsp. soy sauce
sea salt and fresh ground pepper to taste
Place all ingredients in a 4- to 6-quart slow cooker. Stir to combine, cover, and cook on low heat for 8 hours.